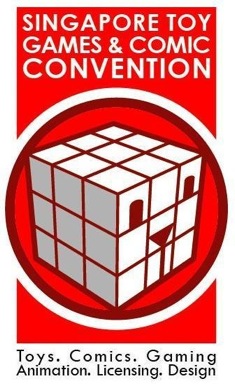 So! I spent a weekend at the Singapore Toy, Games and Comic Convention aka STGCC for short. You may recall that I was there in 2008 and 2009 too. It was again at Suntec, taking up two halls.
This year I was able to make it for both Saturday and Sunday (it ran Friday to Sunday). This year it was a new organiser and so there was a big ticketing booboo, but by convention weekend things were looking nice an' peachy. The US arm of the new organiser Reed Exhibitions organise the wildly successful New York Comic Con, and their lobang really showed. This year's guests blew the previous years' out of the water: Gail Simone, whom I met in 2007 at the Singapore Writers Festival; Leinil Yu; Matt Fraction; Harvey Tolibao; the Tokidoki designers; Esad Ribic; Ivan Brandon; Giuseppe Camuncoli and so many more. So much awesome.
I cosplayed both days with various members of the Adventure Crew and Miss Hallelujah. I got so many autographs and spent so much money on gachapon it's not funny (I do not have a gachagacha problem!). Basically I had a ridiculous amount of fun, even though I missed most of the panels ):
This is just day 1, Saturday. Many, many photos under the jump!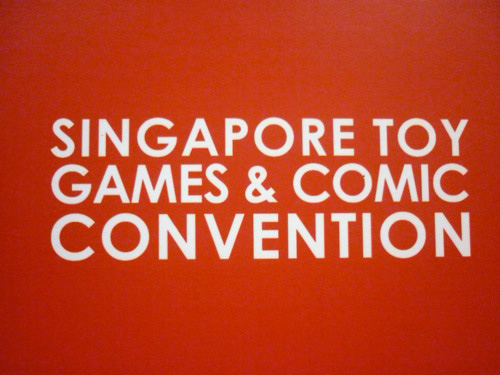 I don't know Wario personally, but I had seen him before – on Halloween. I was on a bus outside Plaza Singapura, and I saw a Wario buying ice cream from a pushcart. That was all kinds of surreal after I confirmed it was the same person. You have to admit, that 'stasche is amazing.
I met up with Joelyn Alexandra first, and we walked around the hall a bit. Apologies to everyone who was with me as Mario, because I kept getting stopped for photos. But I got free stuff :D We met up with Sarah and Avariel, then wandered the hall a bit before making our way to the Walk of Fame.
This year's Walk of Fame was really good, because there was a lot of space for fans to queue up in. It was also tucked away in an area where the queues wouldn't block the flow of human traffic or the shopping area, unlike last year where there just wasn't enough space to line up.
We missed the panels because our timing was all over the place, but that's okay. We had fun! More friends (namely Mintea and Miss Hallelujah) came later and then Sarah went to change into her awesome costume.
As we came back from lunch, on the 3rd floor foyer area, we stopped for photos – mostly of other people taking us. The photography area was mostly centered on the 3rd floor this year because you have to pay to go into STGCC now. I've heard people complaining it's expensive compared to AFA at $15 a day or $25 for 3 days, but it went a long way to helping with the overcrowding of the previous years.
As I was being mobbed photographed, suddenly my friends were saying "RAVEN RAVEN ASSASSIN" and I was like "WHAT WHERE I CAN'T SEE" and eventually I managed to meet him.
HELLO EZIO :D As a huge Assassin's Creed fan, it was insanely cool to meet Ezio. It took him 6 months to do the incredible detail on everything, so if you're reading this, Ezio – PROPS TO YOU!
And as usual, the 501st Legion was there to raise money for charity! You could donate a certain amount to get a photo with the Stormtroopers, and if you donated a bit more you could get the photo printed out. I got the photo on my camera cos I'm cool like that :D
Also, remember I mentioned that this was the first time Marvel was exhibiting in Asia? That was really cool because their folks were also doing signings at their booth, but the booth was really small actually. And on Sunday, when the major US stars weren't at the con, it was basically deserted. Good try, Marvel, but you could do so much better.
I love that all the stars came down though. I met Gail Simone and geeked out, got to meet so many famous people in person and/or from a distance, so it was pretty incredible.
We met up with various friends and all, making for a lovely girl power photo…
And as I was leaving after a long, tiring but incredible day at the con, I stopped briefly at the 3rd floor to take photos of these two ladies.
They were definitely models because their costumes were too professional, in a way. It's hard to explain, but their entire demeanour was definitely of someone who'd been hired to be there. Also, I saw people holding official Tron: Legacy postcards, presumably given away a bit earlier. They were also at ZoukOut later that night, so definitely actresses. Their costumes weren't that accurate if they were trying to be Jem and Quorra, but wow they were glowy if you took photos with a flash.
I'd intended to be there only for a while before heading for a dinner appointment, but it took a while because of the way cosplay photography works.
Basically, someone will ask you to stop for a photo. Which is fine, because that's part of the territory. But suddenly, instead of the friend who's helping the person take a photo, ten other people will suddenly appear in front of you. Which is kind of hilarious on hindsight, but it's a bit disorienting (from the flash) and intimidating (because woah, where did all of you come from?).
It's really fun, though. :D And it gave me the chance to bump into Ezio again, and get this great photo.
I was told the next day that he had a hidden blade, but I didn't know so argh, argh. I missed the chance to see it ;_;
But yes. This year's STGCC was way better than before; though we had to pay to get in, that $20+ was so worth it. The con this year was better organised, better laid out, with great guests and no crowd control problems that the past two years had suffered from.
Sure there was a bit snafu in the lead-up to the con, but I'm willing to forgive because this is Reed Singapore's first time organising STGCC. All things considered, I think they did a great job, and I hope they go from strength to strength.