Tally-Ho is a semi-regular column of my adventures with the Adventure Crew (and sometimes other people). We figured that Singapore can't be all that boring, and are determined to show other folks how fun Singapore can be… if you know where to look.
Way back when, by which I mean last year, the Adventure Crew and I headed to Bukit Timah Hill for a guided nature tour and to climb to the top of the hill. Remember that? Think of that as jungle hike lite.
The hike was organised via Twitter, so it was an early Saturday that I met with @hai_ren, @deafknee, @wilfredphua, @irukafishy, and of course my friends Seriously Sarah and Avariel. Our guides, such as it was, were @hai_ren, @deafknee and @wilfredphua.
The Nature Society was also hiking, but they started much further down the railway line. And to think that ours is considered the easier route.
There is an old school railway line that runs through Singapore, leading from Malaysia – trains still operate between a terminal in Tanjong Pajar (downtown area) and Malaysia, carrying goods and people both ways. The reason why the route winds through most of Singapore, including a lot of prime land, is because it was built sometime in the 1910s-1920s. The Malayan Railway is due to be decommissioned in July 2011; the station is moving, so the current railway line will either be abandoned or developed. No one is sure what's going to happen to the existing railway tracks now, and the Nature Society of Singapore is proposing to name the area 'The Green Corridor' and keep it as a nature-y place.
We started off at Clementi, near Sunset Way. It started out quite okay; mostly bramble and a bit of lalang. I have the scratches on my arms to prove that there was lalang. (I can't find an English name for it, but lalang is a kind of tall grass that can really cut people.)
We went from this: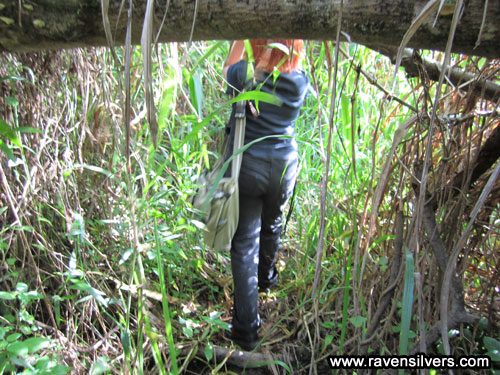 to going into an all-out jungle. As in, literally jungle – there was a small trail, but otherwise it was jungle that hadn't been touched for at least twenty years. We eventually made our way to the site of the old(er) railway line; most likely an older route that was abandoned after they laid newer tracks. There were the to parallel metal tracks on the ground, and in various places the wood had also survived.
This was an all-out hike. We really needed a parang, but none of us had one, alas. We had to climb over and under trees; keep moving through mudpits or we'd get stuck; watch out for random drops in the ground; and deal with bramble, including one patch where Avariel got stuck and had to be un-tangled.
I don't have very many pictures from the hike, because I couldn't concentrate on hiking and photography at the same time. The photos here are a mix of digital and analogue, because I took my Diana Mini camera out on a proper adventure. Check out @hai_ren, @deafknee and Sarah's blog for many more photos of the naturey stuff we saw during the hike.
About halfway through our trek, an hour or so after we'd started off, we came to an abandoned railway tunnel. Right above it, we could hear a road with cars. It's rather eerie: that you can be a few meters below civilisation, but they would never know you're there. The tunnel was full of mud, and the only dry land was in the last third of the 60-70m long tunnel.
I was right behind Sarah when she took this photo. About ten seconds after this snap, I fell into a mudpit. When I tried to pull myself out, something on a branch poked me in the hard; it was so painful I thought it'd punctured skin. That was… super not fun.
The mud was so deep it came up over my ankles, and the secret to going thorugh the tunnel was: just keep moving. Because if you didn't, you would get stuck and lose your shoe. On the upside, I was already so muddy and wet that I went "to hell with it! ONWARD!" when we had to cross the tunnel. First time in my life I've ever led a group and been happy to do it, hah.
On the other side of the tunnel, we met a large group of adults. But… well. They were, let us say of the older persuasion, and mostly unprepared for an all-out trek. But they were adults, so they should have been alright. We warned them of the muddy tunnels, but we were all wondering how they'd gotten so far and if they would have to turn back.
There was a bit of a traffic jam because the trail is narrow, so while I was trying to pass some of them, I fell into a mini swamp. Sigh. Worse still, the water had a suspicious sheen to it, and it made my arm very itchy for quite a long time after that.
40 minutes of trekking later, we came into a valley. That was totally unexpected. It was open and grassy. There was even a little river (actually a storm pipe) and many, many dragonflies.
And just beyond the valley…
And just beyond that…
MUCH CELEBRATION WAS HAD.
(Though you see us taking photos on the track, we were careful: we went as a group so we would be able to spot a train if it was coming. So don't be stupid and stay safe!)
About two hundred meters down the tracks, we came across this quiet control room filled with levers. It smelled old, and there was a map above the levers dated to 1968.
Just beyond that was the railway station, which had this lovely sign for us to camwhore at.
There's actually a seated waiting area; we're not sure whether it's in use, but we took the opportunity to rest there. And compared shoes, ha.
I was so happy I kept saying hello to people. Cyclist doing a bit of off-road next to the railway? Hello! Random hiker? Hello! Stationmaster? Hello!
From the station, it's a short walk to the main road and civilisation – the main road, of course, being Bukit Timah Road. Right next door is a giant McDonalds, so that was our end point, but yay!
It took us about 1.5 hours to reach the railway track. I think we covered about 2km, but it's some of the hardest 2km I've ever covered. It was incredibly exhausting, but I was so proud of myself afterwards. True, I had to bathe twice afterwards, and I have a strange insect bite welt that hasn't gone away almost a week after the hike, and I was muddy past my knees, but. I kept pace with the rest of the group, was covered in nature, fell into a mudpit and a swamp, and climbed dead trees that were soft and squishy to the touch! Me, a city girl through and through! I don't think words can really express how hard that hike was, but I was so pleased with myself.
The Malayan Railway is quite long; I know there are tracks going through Clementi, Bukit Timah, Choa Chu Kang and other parts of Singapore. It makes a lovely photo opportunity, but you must always be careful because trains are still running. I probably won't hiking like that in the near future, but I do believe The Green Corridor folks will be conducting more walks and/or hikes in the future. Go with them! They are more familiar with the railway, and I know our guides were fairly experienced hikers.
The railway station moves in July 2011. Until then, the track is open and the trains are running, so there's still time for you to take photos and suchlike. Personally I'm quite glad we went, though the hike was kind of unexpected and difficult.
But I'm part of the Adventure Crew, so I have a reputation to live up to. So chin up, knees down, and onward to more adventures we go!