What a whirlwind week it's been! Many updates on the writing front, plus great news coverage that I was half-expecting but not really prepared for. And all to do with The Steampowered Globe! It's taken me a few days to start writing this because I've just been so excited and slightly incoherent because of it :D
First up: you can now get The Steampowered Globe on Kindle! You can find the Amazon page here. As of today, we are in the top 30 in Science Fiction and Fantasy anthologies for the Kindle, which is so exciting. Our other books will also be available soon. Of course, you can still buy a physical copy of the books from our publisher, Two Trees.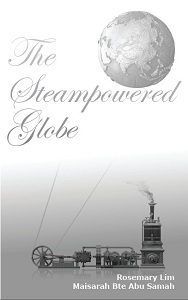 Secondly: Jess Nevins interviewed us for an io9.com review of The Steampowered Globe! I admit, I started screaming in excitement when I found out he was interested in talking to some of us. This is an Especially Big Deal to me because he's one of my personal heroes.
Here's what he said about my story:
"Morrow's Knight," by Viki Chua, a self-described "mild-mannered university student," is the most traditional of the stories: set in Victorian London, a dirigible inventor and mechanic loses her scientist/inventor brother to murder, but she comes to suspect that while his body is gone, his soul is not. Chua said that her goal was to add to the numbers of female engineers in fiction, and she succeeded in the character of Helena, the protagonist of "Morrow Knight." [sic] If the plot moves along predictable lines, it does so smoothly and pleasantly.
It may not be a raving review – he's reserved that for the best stories in the anthology – but it's good enough for me. Let's just say I spent the last few days grinning like an idiot.
A little bit of backstory of why I'm so excited: Jess Nevins (who is the authority on steampunk) and he'd done some amazing annotations for the source comic. I owe him an immense debt of gratitude because his excellent annotations for The League of Extraorindary Gentlemen was my first real introduction into steampunk literature, to which I owe a lot in my development as a writer. His books are some of my favorites, especially the Encyclopedia of Fantastic Victoriana (which is an amazing compedium of knowledge, and highly recommended if you're into Victorian fiction).
We've got more coverage since then: Cory Doctorow (!) on BoingBoing and the excellent folks from the World SF Blog wrote about us, which led to more excited shrieking on my part. And I'm told that there are more plans afoot involving another famous steampunk name, which makes me even more excited!
And so I shall end this with some excited screaming, and I hope you will join me: ahhh! Ahhh! Ahhhh!