I'm a member of Postcrossing, a site that gives you a random address of someone else in the world.
Generally I just write a cheery hello and a little factoid about the postcard I'm sending – "The last tiger was cornered in the Raffles Hotel billards room…", "Laksa is one of my favorite foods…", "Cats are awesome", things like that.
But this recipient asked for something a bit different. She wanted the postcard in an envelope, with "a piece of your soul"; she asked for things like a bus ticket or a page of your local newspaper.
So I wrote this short story based on the postcard I was sending her. Not on the back of the postcard, like how my friend June does for her amazing  Crossingtales project, but on a separate page since it was going in an envelope anyway.
I hope you like it.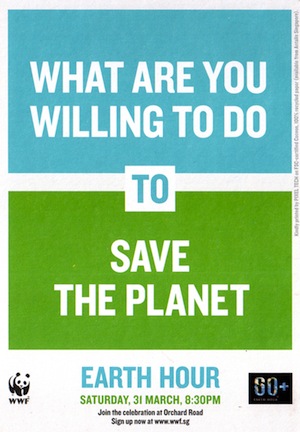 "What are you willing to do to save the planet?"

She hadn't grown up on Earth; hadn't even been born there. But she had heard stories — the myths, the legends, the unsolved mysteries. But Earth had always been too far removed from her comfortable life in the Colonies, thousands of light-years away, to be real. It was the stuff of stories, that was all.

Then she had heard of the invasion force touching down on Earth, and suddenly it didn't seem so far away. Their alien allies were trying to help, but there was only so much they could do unless they wanted to risk another galaxy war.

Humanity was on its own.

She'd felt it, then; a sort of calling, a need to help. Earth was the homeward, and could she ignore it? She couldn't, not as a human.

What was she willing to do to save the planet? She decided there, right then, as she stood in front of the military recruiter in a too-small office —

Anything.

Earth was her homeward, full of myths and legends and unsolved mysteries. She wasn't going to let them have it without a fight.

Finally, she said: "Whatever it takes. Where do I sign?"

– end-
I rather like it. I don't think I'll write another story so soon, but it was a good exercise and I hope she liked it.