Tally-Ho is a semi-regular column of my adventures with the Adventure Crew (and sometimes other people). We figured that Singapore can't be all that boring, and are determined to show other folks how fun it can be, if you know where to look.
First off: I'm the curator of the Singapore rotation curation account @HellofrmSG this week. Come say hello if you're on Twitter!
So. We finally broke the curse of not visiting the Southern Ridges this last Saturday! And by we, I mean Sarah, Jo, Mintea + Dude, and new friend Max. And myself, duh.
We covered the entire Southern Ridges, starting from Kent Ridge Park (the Canopy Walk) to the Marang Trail, which was a total of about 10km.
We chose to start from the Canopy Walk instead of Marang Trail because the NParks website said that the Marang Trail is the most difficult part of the route – you'll see why in a bit.
It was a very scenic route, but I didn't take a lot of photos because I was concentrating on putting one foot in front of the other. (No, I'm not very fit.)
Anyway! We started early in the morning, arriving at Kent Ridge Park around 9am.
Kent Ridge Park was difficult at first, because we came up from the back of Science Park, so it was really hilly. And it started to rain.
But eventually it stopped, and then we reached the Canopy Walk!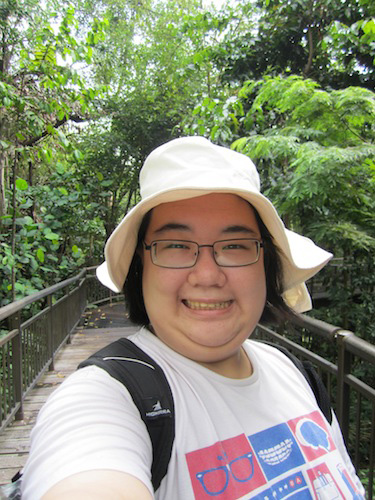 The Canopy Walk is a elevated broadwalk that spans the edge of Kent Ridge Park down to Hort Park. There are lots of info panels telling you about the flora surrounding the pathway.
We saw a really big, fat black beetle the size of my palm that somehow managed to fly. No photos because I ran away as fast as I could while hiding behind someone.
The Canopy Walk leads to Reflections at Bukit Chandu, a small museum commemorating last stand of Singapore by the 2nd Battalion Malay Regiment.
We didn't have time to go in, but I think we will visit in the near future.
We reached Hort Park around 10.15am, so we were making pretty good time. We had a picnic at Hort Park. I'd made wraps. Turns out that chicken ham wraps with roasted capsicum dip is superduper nice.
After the pit stop, we headed onwards through the length of Hort Park to the Alexandra Arch.
Alexandra Arch links directly to the Forest Walk, an elevated metal walkway that winds it way towards Telok Blangah Park. That was pretty neat, but most of it was uphill so it was pretty exhausting.
The walkway itself is pretty high up and you can see through the grille, so if you have vertigo that might be a problem.
And then onwards to the highlight of the walk, the Henderson Waves! But this was probably the toughest part of the entire walk for me. We'd been walking a good two hours or so by then, and Telok Blangah Park is a lot steeper than Kent Ridge Park was.
I was really struggling up the last hill towards the Henderson Waves, but hurray, we made it!
The Waves are completely unshaded, so beware.
The Henderson Waves links Telok Blangah Park to Mount Faber Park, so we had to walk up Mount Faber. Thankfully the walk was quite gentle because it follows a road.
We were almost at the top, and I was lagging behind as usual. I'd stopped to take a photo of the view when Sarah and Dude, slightly up ahead, suddenly told me to walk. Just walk.
I'm genre-savvy enough to know when someone tells you to walk and they have that expression, you run and you don't look back. So I did. (That will be the first and last time I will ever run up a hill, I swear.)
And then I turned around.
And there was a giant swarm of insects right behind me.
Aarggggghghh.
Pit stop at a random Mount Faber bus stop to rehydrate, then onwards to the Marang Trail – which, thankfully, was all downhill. The view from Mount Faber is quite nice. You can see the Angry Birds cable cars!
The Marang Trail is split into two parts, really. There's the wooden stairs, which are an easy walk — we heard monkeys, so we kept very quiet because we didn't want to disturb them.
But you know that I said the Marang Trail was the hardest of the route? It's because the second half of it is steep stairs going up the side of Mount Faber.
And by steep, I do mean steep. It is step-on-a-wet-leaf-and-fall-to-the-bottom kind of steep. And there are no railings, so one slip and you could seriously injure yourself.
Therefore, no photos because I did not want to die.
AND THEN WE REACHED THE BOTTOM. Which turned out to be Seah Im Carpark, opposite VivoCity.
SO. In total, we walked about 10km in 3 hours once you discount our picnic time. AND we broke the curse. Hurrah!
You want some tips, I hear? Have some tips.
Bring alotof water: I went through nearly 2 L and I still had symptoms of dehydration and heat exhaustion many hours after that.
Hats are a must: the Treetop Walk and Henderson Waves have no shade at all.
Beware monkeys: Basic monkey rules apply. No plastic bags, do not approach, etc. We didn't see any, but we heard them.
In the end, I'm quite pleased with us. We finally broke the Southern Ridges curse, hurrah! But that is our one dose of nature for the year, hah. And that's good enough for me.