If you know me, then you know I adore Disneyland.
If you don't: I adore Disneyland.
Hong Kong Disneyland is my favorite. I've been there four times in the last three years, and I love it so much. I spent my 21st birthday there, and I was so happy I thought I would explode. It's difficult to explain, but I do genuinely love it.
But there isn't too much guide info out there, maybe because it's the small Disneyland that no-one likes. (I fart in their general direction!) So I wrote this!
All the information here is what I've learnt to do from my visits. Let's be clear: I'm not a Disney employee, this is just what I've figured out, and my Protips are all my own opinions. So there's that.
This guide was last updated in August 2014. Now with 100% more pictures and clickable links!
Here's what the guide has:
1.0 Hotels
  1.1 Disneyland Hotel
    1.1.1 Food 
      1.1.1.1 Enchanted Garden (breakfast) 
      1.1.1.2 Crystal Lotus (dim sum)
    1.1.2 To the Park
    1.1.3 Pressed Coins
    1.1.4 Miscellany
  1.2 Hollywood Hotel
     1.2.1 Food
     1.2.2 Pressed Coins
  1.3 Disney Explorers Lodge hotel
2.0 Disneyland Park
  2.1 Ticketing & Opening Hours
     2.1.1 Magic Access
     2.1.2 Rope Drop
  2.2 Main Street USA 
     2.2.1 City Hall
  2.3 Tomorrowland
  2.4 Fantasyland
  2.5 Adventureland
  2.6 Toy Story Land
  2.7 Mystic Point
  2.8 Grizzly Gulch
  2.9 Parades & Fireworks 
     2.9.1 Parades 
     2.9.2 Fireworks
3.0 Other Bits and Bobs 
  3.1 PhotoPass 
  3.2 Travel Light 
  3.3 Package Express 
  3.4 Birthday Badge 
  3.5 Take It Easy 
  3.6 Light-Up Stick 
  3.7 Club 33
Proper guide under the cut. Clickity click!
1.0 Hotels
HK Disneyland has two hotels: the Disneyland Hotel and the Hollywood Hotel. (And judging by what I've seen, a third might well be on the way.)
The Disneyland Hotel boasts a posh Victorian theme, while the Hollywood Hotel brings to mind the glamor of classic Hollywood diners. I've been lucky enough to stay in both.
1.1 Disneyland Hotel
The posher, more expensive of the two hotels. It has fewer rooms than the Hollywood Hotel, but the rooms are large, very comfortable, and noticeably more posh.
It's quite low, only 3 floors of rooms, but each room is large and very comfy. The bathrooms are really spacious and nice.
There is a big Mickey-head garden maze right outside the lobby; it's clearly meant for children, but it is great fun to pretend to be lost in. Just beyond that is the Disneyland jetty, which is usually not in use.
Their Kingdom Suites give guests access to the higher floors, where you can see the park fireworks at night. For more information, check out the hotel site.
1.1.1 Food
Almost all of the eateries are proper, sit-down restaurants. The only exception is the Walt Cafe, near the lobby, which is more like a posh cafe rather than a fun cafe.
The restaurants are:
Crystal Lotus – Chinese food
Enchanted Garden – international buffet
Walt's Cafe
Grand Salon – merges with Walt's Cafe in mornings to serve cold breakfasts
Sea Breeze Bar by the pool
I haven't had the chance to try all of them, so information is a bit limited.
1.1.1.1 Enchanted Garden (breakfast)

Enchanted Garden hosts the character breakfasts, so you must book early. When you check-in, there is a high chance you won't be able to get a seat so try to book it as early as you can. It is, however, very expensive. There are two seatings in the morning: 7am to 9am, and 9.30am to 11am.
The breakfast is a very good spread. It's focused on western/continental breakfast, but there are also Japanese, Chinese and Indian stations.
The characters Mickey, Minnie, Pluto, Donald, Daisy and Goofy will meet-and-greet, which is great. They'll even sign your autograph book for you! They come out around 8.30am for the first seating, 9.30am for
the second.
Protip: Though it's very early, the first seating is less crowded and offers more time for you to meet the characters.
1.1.1.2 Crystal Lotus (dim sum)
Crystal Lotus has the Disney dim sum. Though you'll be able to find certain items in other Disney eateries, they have the whole range.
The dim sum is all Disney-shaped and rather cute. You need to book a seat, as well as place advance orders for the Disney items the day before.
However, the food is not overly good, and it is very expensive for dim sum. So, while adorable, this is very much optional.
1.1.2 To the Park
A shuttle runs between the two hotels and Disneyland. It's about 10-15 minutes ride by shuttle, and the average interval is about 10 minutes between buses.
1.1.3 Pressed Coins
Check out my introduction to pressed pennies for a starter to what these are!
In HK Disneyland, each machine has 3 designs each. There are no repeats, so every machine is 3 new designs!
There is only one machine inside the Disneyland Hotel. It's just by the back exit of the gift shop, opposite Crystal Lotus. Each pressed penny is costs HK$15 (up from HK$10 two years ago). Machines now accept both
Octopus card and coins, but Octopus cards are much easier.
Albums for your coins are available from most of the shops inside Disneyland.
1.1.4 Miscellany
Updated August 2014! This hotel's gift shop has a pretty good selection, and if you're looking for Princess stuff, you stand a much better chance at Kingdom Gifts than in Hollywood Hotel.
There is free wifi in the lobby that doesn't require a login. There is wired Internet in rooms, but that is HK$120 for 24 hours.
There is also a spa, which offers a foot massage. However, I'm told it's not really worth it and not very refreshing.
1.2 Hollywood Hotel
Updated August 2014! The Hollywood Hotel is themed for the golden age of Hollywood, with lots of Art Deco.
It's not as posh as Disneyland Hotel; think a cross between 40s Hollywood glamour mixed with rockabilly sensibilities of the 1950s diners.
Room rates are typically cheaper than Disneyland hotel, and there are also more rooms so it can feel more crowded. The rooms are smaller, but still very comfortable. Some of it is a little budget for what you're paying — paper cups instead of porcelain, things like that — but access to the park is the key thing.
For more information, check the hotel website.
1.2.1 Food
Updated August 2014! Food here is cheaper and 'fast' food, but proper food. These include Chef & Dine, which is probably the cheapest eatery in the hotels, which has fast food but not junk food. Prices start from HKD88 to about HKD168. The menu is somewhat limited, so it may not be for everyone if you're there for a couple of days.
Updated August 2014! Chef Mickey is an international buffet, the sister restaurant to Enchanted Garden. Their breakfast buffets includes a photo opportunity with Chef Mickey himself! The spread is pretty good, a mixture of Chinese/Western food.
Protip: There are two dinner seatings, and the price is different. Choose your seating accordingly.
1.2.2 Pressed Coins
It has two machines. One is next to the gift shop entrance, and another located further down the corridor by Chef Mickey's entrance.
1.3 Disney Explorers Lodge hotel
Updated January 2015! HK Disneyland has just announced its third hotel, due to open in 2017!
Disney Explorers Lodge is modeled on Animal Kingdom Lodge in WDW, and it looks pretty cool. More info to come!
2.0 Disneyland Park
The highlight of your trip there, no doubt! I've split things up according to park areas. Items marked with a ❤ indicate my personal favorites.
Disneyland celebrates seasonal themes like Halloween (usually from mid-September), Christmas (from mid-Nov) and Chinese New Year. So depending on when your visit is, there may be some special extra rides!
Each area has at least one coin press machine, but since it's listed on the park map, I shan't cover them here.
Let's get this out of the way. Is it small? Yes, by Disney standards. But it's not as small as people would have you believe – it's a lot bigger than Universal Studios Singapore, for example.
It's big enough to have lots of things to explore, but compact that you won't completely die from exhaustion halfway through the day. It's crowded enough for atmosphere but the lines aren't crazy long like in Japan.
Protip: Several of the rollercoasters have single-rider queues. It can cut your wait time to 10 minutes or less, especially when it's crowded. The only thing is that you have to be willing to sit with a stranger.
2.1 Ticketing & Opening Hours
Updated August 2014! Prices have gone up since my last visit. Adult tickets are HK$450 (one-day) or HK$585 (two-day).
Park hours vary, depending on seasonal celebrations. Generally it's 10am to 9pm, but for Halloween park hours are usually extended. Check their site for your own visit.
You can also take up the Disneyland tours, which sound really neat and include some pretty cool
benefits. (Check out the Rope Drop section for an example.)
Protip: Hotel guests are guaranteed tickets, though you need to pay the existing prices. You can buy tickets from your hotel desk or at the park itself.
After you enter, don't throw away your ticket! You'll need it for FastPass rides. If you don't know what or how the FastPass system works, have an FAQ.
2.1.1 Magic Access
Updated August 2014! Magic Access is the name for Disneyland's yearly pass. If you go as often as I do, I highly recommend it because there are a ton of benefits and discounts.
Personally, I think it's a good investment if you plan to visit at least twice in one year, especially if you plan to go during your birthday and wanat to stay at their hotels.
Membership is tiered, and there are student prices available. It's valid for one year, and my Gold card paid for itself within two visits back in 2012.
Protip: Members can get a free birthday cake if you call ahead of your visit.
You can apply online or go to City Hall after you enter. You'll need to show ID at first to get the card, which you'll get on the spot.

They've raised the prices, so do your research to see if it's right for you. Perks have changed from Magic Access, which can now include extra FastPasses and better birthday perks!
Prices have also gone up, so do your math before committing. More details can be found on their website.
2.1.2 Rope Drop
Though the park officially opens at 10am or 10.30am, they will let you into Main Street before that. You can do your shopping then, but I highly recommend you experience the rope drop ❤.
It's not actually called that, but they block off the roundabout that is your gateway into the various areas of the park with a white rope, so yeah. Make your way to the rope, and try to get to the front if you can.
At official opening time, there is a little ceremony where a lucky family gets to open the park! And then they will drop the rope, and you can enter Disneyland proper. Everyone will run, so be careful. There is usually a character at the roundabout for a photo opportunity!
Protip: Give that a miss and go meet the Princesses at the Gazebo, in the Castle Grotto! When facing the castle, keep right and take the small-ish side path that leads to the castle. Queues can get long, so you might want to hurry.
Protip: It's a good idea to try to ride all the FastPass rides and Autopia early, before lines get long.
2.2 Main Street USA
This is the main shopping and eating area in Disneyland, so not much is needed to say. The photo shop is the first one on the right row, near the railway station. A very large Emporium takes up most of the left side of Main Street, and that is where you will be doing most of your shopping. Check out their diorama window displays!
Protip: The Emporium has Duffy things! You can get Duffy bears and outfits, although their selection is limited to some of the more basic outfits. I got an adorable Stitch outfit for HK$138 that is just too cute.
Crystal Arts sells lovely glass souvenirs, and you can get some items engraved. There is also a boutique that sells much more expensive, classier souvenirs on the right side of Main Street.
The Market House Bakery and Market Street cart offer snacks and pastries, including Mickey-shaped waffles! You probably won't fill up, but it's good for a snack and a rest.
Protip: Avoid the bakery's outside seating because there are lot of hungry pigeons.
There are two other sit-down restaurants here, the Corner Cafe (Western food) and Plaza Inn (Chinese food). Both are Priority Seating options.
Plaza Inn is operated by Maxim's, which is kind of like Crystal Jade. It's semi-formal, semi-casual restaurant. They get very crowded at meal times, so Priority Seating is recommended. They are not very expensive and their portions are quite large, so you'll probably end up ordering too much. It's a good respite from the hustle and bustle of Disneyland. (Priority Seating)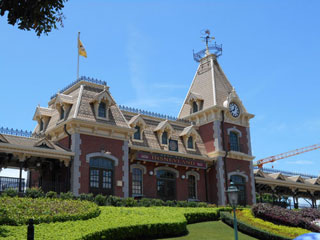 Updated August 2014! The Disney Railway ❤ has a stop in Main Street USA. It only makes two stops, and even though it may not seem like a lot, you should ride it. There are lots of little surprises in store.
Sadly, the trains aren't running because of ongoing construction in Tomorrowland. The railway will be closed until early 2015, but I suspect there will be more stops to come.
2.2.1 City Hall
City Hall is located on the first building on the left when you enter. Think of it as your one-stop information counter. You can arrange for Priority Seating here, where you can make reservations at certain eateries for lunch or dinner. It's a free service and very useful, particularly for those with small children or older adults.
Updated August 2014! In the grand tradition of Disney parks, you can get a special stamp on your postcards here! They don't just have one design, but they have lots of different designs. You can also buy postage stamps from them.
2.3 Tomorrowland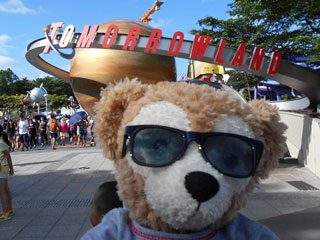 It's a relatively small themed area. There are two eateries here, both fairly popular. Comet Cafe is a Priority Seating eatery. I like Starliner Diner's burger in the shape of Mickey's glove.
Autopia ❤ is one of my favorite rides. You get to ride in a car on a track, and I love how the track goes over part of Tomorrowland. It is not a FastPass ride, but queues can get long so try to get there early. Waits can reach 45 minutes, or even 75 minutes when it's really crowded! (Outdoor)
Updated August 2014! Another one that's fun is Buzz Lightyear Astro Blasters ❤! It's child-friendly and indoors. Use your joystick to turn your little spaceship around, but be careful when you step out of the ride! Queues can get long so try to ride this early in the day. (Indoor; FastPass suspended until 2016)
Space Mountain is a classic Disney ride. While not an all-out rollercoaster, it can be rough. So don't be stupid and listen to all of the warnings. They are there for a reason. It gets Halloweenised into Space Mountain: Ghost Galaxy but it's not that scary. You can get a photo of yourself freaking out in the gift shop. (Indoor; FastPass ride; photo; single rider)
Stitch Encounter is a show where you get to meet Stitch, and it runs in English, Cantonese and Mandarin. Sadly I haven't been able to catch any, because there are very few English timings.
Updated August 2014! And the latest upcoming ride is the Iron Man Experience, also known as Stark Expo! Right next to Astro Blasters, Hong Kong gets to be the very first Disney park to feature Marvel now that they're owned by Disney. It's due to open in 2016. I'm looking forward to this.
Updated August 2014! When you're walking around Tomorrowland, you might hear a robotic voice talking in Cantonese. Look downwards because you might just meet Push the Talking Trashcan! Push is a wisecracking, cheerful rubbish bin who roams around Tomorrowland saying hello. He speaks simple English too. Say hi if you see him!
2.4 Fantasyland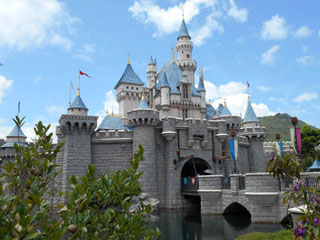 Probably the biggest themed area in Disneyland, and your classic Disney land. Many of the rides here are catered to small children. Most of them are pretty self-explanatory, so I only have a few tips.
Protip: Many of the rides are still open after the fireworks. This is a good time to avoid queues. The carousel and Dumbo rides are great fun at night.
The Many Adventures of Winnie the Pooh ride ❤ is catered to the very young. If you're feeling overwhelmed by the noise and the action, this is a good escape. Queues can get very long, unfortunately. Ride this early in the day if you can. (Indoor; FastPass ride; photo)
Updated August 2014! The second stop of the Disney Railway is located opposite the Dumbo ride. It can be a bit hard to find, so don't hesitate to ask cast members (the staff) for directions. Closed until early 2015 because of work on the railway.
The Golden Mickeys is a 30-minute stage show. It's a sort of awards show, and quite fun. It fills up fast. The dialog is in Cantonese, but there are English and Chinese subtitles on screens beside the stage.
Protip: Sit in the middle. No spoilers, but there is a shiny surprise for you at the end.
Protip: You can walk to the Golden Mickey entrance from the main roundabout; it's easier than pushing through the Fantasyland crowd.
Small Small World has an actual working clock that chimes every 15 minutes. Every hour, there is a little mechanical doll show. (Indoor)
Protip: This fills up after Golden Mickey lets out; check the showtimes before you go. Normally, there is no wait.
Protip: The facade lights up lovely at night.
So. Did you miss your photo opportunity with your favorite character? Don't worry. The Fantasy Gardens have got you covered. This is really just a garden full of gazebos for your favorite characters to meet you! It only opens after 12pm. The characters there are Mickey, Minnie, Winnie the Pooh, Donald Duck, Pluto and Goofy.
Updated August 2014! PhilharMagic is a 3D stage show that is very fun! It's the same as Tokyo Disneyland's, but the spoken parts are in English. The 3D is very good, the story is very funny, and a must for Donald Duck fans. I really enjoy this because it's quite entertaining.
2.5 Adventureland
Despite the whole aura of the mysterious jungle, Adventureland has rides that are pretty laidback. Most of them aren't rides in the traditional sense.
One of the other stage shows in Disneyland is here. Festival of the Lion King is a 30-minute, live action retelling of Lion King. It's quite a sight, but it can also get pretty intense so it may not be suitable for very small children.
Liki Tikis aren't exactly a ride, but great fun to play around with. Just watch out if you want to stay dry.
The Jungle River cruise is a guided tour cruise around the 'river' surrounding Tarzan's island. Tours are in Chinese (putonghua), Cantonese and English. The English one is usually the least crowded. It's not a prerecorded tour, so your guides can be quite funny.
Protip: It's more fun after dark.
Tarzan's Treehouse is just there for you to walk through, kind of retelling you the story of Tarzan. You need to take a raft to/from the shore of the 'main' land, which is quite fun if very slow. Updated August 2014: it's open, but much of it was wrapped up in bamboo
because I believe some work was going on. (Indoors/Outdoors)
The Tahitan Terrace serves Southeast Asian and Indian food here, but most importantly the food is certified halal. Vegetarian options are also available. For more info, check out the dining page under Adventureland.
2.6 Toy Story Land
This is one of three new areas. It was opened in November 2011, so everything is new and shiny. The rides here are geared for the daredevils. Because of that, lines can get long.
Slinky Dog Spin ❤ is fun, and family-friendly. You're made to remove any headgear, even a woolly hat, so you may want to avoid it in winter or when it's cooler. Lines can get long here, about 35 minutes. (Outdoors)
Protip: Sit on the inside for less G force.
RC Racers is definitely for the thrill-seeking folk. It's a U-shaped coaster where you go backwards and forwards at speed. The Toy Soldier Parachute Drop is similar, but you go up and down. (Both outdoors)
2.7 Mystic Point
Updated August 2014! Mystic Point is the newest part of Disneyland, and the smallest themed land. What I really like about this is that it's linked to Tokyo DisneySea! Keep an eye out for little easter eggs that link Lord Mystic to DisneySea's Mysterious Island! (Here's a hint: look carefully at the pictures on the wall as you join the line inside the Manor.)
The only ride here is Mystic Manor, a dark ride – not a rollercoaster, but you ride along in a special carriage to explore the Manor. Beware: this ride is pretty intense even for adults. Although it's not rough, it's dark and loud. Personally, I found that it can get overwhelming. I saw several children genuinely freaked out at the end, so I would recommend this for older children. (Indoor; dark)
Protip: Each carriage experiences Mystic Manor slightly differently. For the best experience, aim for the first carriage.
Protip: My main problem with Mystic Manor was how loud it is. I found it helped to cover my ears, to lower the intensity of the audio experience.
The Explorer's Club restaurant is a little hidden, but its size is deceptive – it's a lot bigger on the inside (but is not a TARDIS). Serving Japanese, Korean, Indonesian and more general Southeast Asian food, it's a little pricey. I like it because it's somewhat dark and quiet, so it's a good place to recharge your batteries after the crowd. All the meat items here are certified halal.
2.8 Grizzly Gulch
The second of the new areas! Opened July 2012. It doesn't have many rides, actually, because most of the area is dominated by the Runaway Mine Cars ride.
Updated August 2014! It boasts the Big Grizzly Mountain Runaway Mine Cars ❤. In many respects, this is a tamer version of Big Thunder Mountain in Florida, but good for rollercoaster non-lovers like me. It's fast, fun and will send you yelling your head off in the
adrenaline rush. (Outdoor; single rider)
Geyser Gulch isn't a ride either; it's an activity area. It's fun to wander through but watch out for cheeky children with water cannons and/or sudden water spouts! (Outdoor)
There is one eatery here, the Lucky Nugget Saloon, with proper food like fish and chips.
2.9 Parades & Fireworks
2.9.1 Parades
Updated August 2014! HK Disneyland usually has two parades a day. Times vary depending on season, but generally the afternoon parade starts around 2.30pm and the evening parade starts around 7pm. All parades are weather-dependent.
Protip: If you don't know the exact time of the parades, look for the cast members setting up metal poles and white string along the parade route. These typically go up 30 minutes before the parade's scheduled start. You can use these as your cue to find a spot on the curb to sit down on.
The afternoon parade is the smaller of the two. If you're willing to miss it, this is a good time to take the rides while everyone is watching the parade.
Protip: A good spot to watch the parade is at the roundabout in front of City Hall. The floats in the current Flights of Fancy parade are very tall, so the roundabout offers you a wider field of vision so you can really see everything.
Updated August 2014! The evening parade is, of course, the famous one. This is not a given so there is a chance you may not get to experience it. Their online calendar is invaluable, so try to plan your visit so that there will be one.
Do not miss the evening parade if you're there the whole day. Try to eat beforehand because restaurants get crowded after it.
Protip: In my experience, the parades don't start on time. There is usually a delay of 10 to 20 minutes.
Depending on the seasonal celebration and day, there may be three parades – one in the afternoon, and two at night. (They're actually the same parade.) Check your times guide that you get when you enter or the online calendar.
2.9.2 Fireworks
What better way to end your awesome day at Disneyland? Fireworks typically start an hour after the evening parade ends. (Times vary.) Between the parade and fireworks, people go shopping. You probably will too!
This is a classic Disneyland experience, so be ready for crazy crowds.
Protip: The roundabout in front of the castle is a prime spot. Try to get a seat on the central piece because that is probably the best place to watch them.
Fireworks last for 15 minutes, and after that comes the exodus. If you're in a hurry and want to avoid the crowds, watch the fireworks by City Hall. Once that's done, run out of the park and you may miss the crowds on the MTR.
3.0 Other Bits and Bobs
3.1 PhotoPass
Updated August 2014! HK Disneyland has recently adopted the PhotoPass sytem, much like the US parks. Although it seems complicated at first, PhotoPass is actually really helpful!
When a Disney photographer takes a photo of you, they'll give you a PhotoPass card. Then, whenever another Disney photographer takes a photo for you, you pass them the PhotoPass card and they'll link the photos to that card.
Then, at the end of the day, go to any PhotoPass location to choose which photos to buy. There are lots of PhotoPass locations; these include rides with a photo element, the main photo shop in Main Street, and the hotel gift shops. But, mostly importantly: you can only view photos that were taken that day.
They have a variety of pricing options, including printing and online-only. Now you can download your photos online! For more information including prices, check out the HK Disneyland website.
3.2 Travel Light
I cannot emphasize this enough. Travel light. Don't freak out and think you need a lot of items. I've developed a bag and rigging system of my own, cobbled together from a bottle strap and a tiny messenger bag in what I call the my perfect Disneyland bag. That's it.
It makes it easier to go on rides, to move around crowded spaces, and it's easier on your body too.
Updated August 2014! For the love of your skin, wear sunblock. I learned the hard way that it is a must.
3.3 Package Express
When you're shopping, you'll end up carrying lots of bags, yes? Yes.
Instead of carrying all those bags, why not send them to a pick-up point? This is called Package Express.
Hotel guests can have their purchases sent to their hotel. Even if you're not staying in a Disney hotel, you can pick up your items by the exit. When you're paying for your stuff, ask the cast member about it.
3.4 Birthday Badge
Is it your birthday? Hurray, hurray! Go to City Hall and tell them it's your birthday to receive a neato badge. Wear it! Random cast members will say happy birthday and you might even get random stickers!
3.5 Take It Easy
Hong Kong's weather is similar to Singapore's, but don't be gung-ho and think you can take it. Wear a hat. I cannot say this enough: Wear. A. Hat.
Summer? Wear a hat. Winter? Wear a hat. Spring? Wear a hat. Autumn? You get the idea.
Between the heat and your excitement, it's possible to not notice how hot you are. You can pass out from heat exhaustion. Don't embarrass yourself and cut short your time in the Magic Kingdom. Stay hydrated.
You can buy drinks from the various pushcarts and so on, but it can get expensive. So bring your own bottle, or keep refilling a bottle from the various water coolers.
3.6 Light-Up Stick
You want a light-up stick for the parade at night? Spring for the candy floss at the hub roundabout. You get a candy floss bigger than your head, and the stick inside is a light stick that can flash colored lights. There is a lot of sugar to get through, but totally worth it for the stick.
3.7 Club 33
There is none. ):