The proudest I've ever felt to be Singaporean was in 2010, when I was a volunteer for the first-ever Youth Olympic Games.
For two weeks, 20,000 of us were deployed across the island at competition venues. We came from all over the world, although most of us were from Singapore. I met people from Russia, Greece, Kazakhstan, and so many other places.
I was at a downtown convention centre, where six sports were competing.  We manned the media helpdesk, helping foreign press and spectators with information and directions. It was pretty intense, because everything moved so fast. We had to deal with so many people, all with different needs.
It was also one of the best times of my life.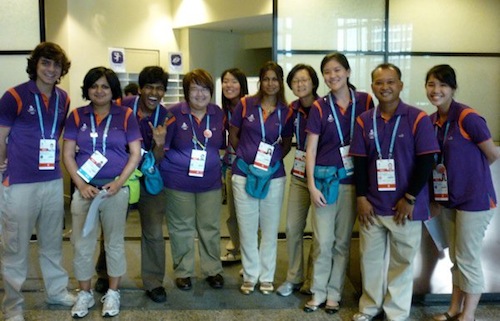 *   *   *
Over the years, I've become more aware of the flaws in the basic historic narrative we are taught, and which underscores much of our life. This has a lot to do with my growing understanding of social justice, privilege and racism, and how easily history can be shaped to suit our master's needs depending on the balance of power.
I'm nowhere near as critical as some of my learned friends, but I'm beginning to understand that not everything is as it seems, and how certain groups have been left behind at the expense of progress.
That, as you can imagine, takes the shine off things.
*   *   *
My family has benefitted immensely from our nation's progress. We live comfortably, and I've never lacked anything important.
I've had all the support I've needed, through school and beyond. We want for nothing and therefore can want for everything.
I've grown up healthy, happy; and firmly middle-class or better.
*   *   *
In more recent years, I've seen the worst side of people. I've read truly awful things that their writers truly believe. Real hate and deliberate ignorance is nauseating and deeply unsettling.
I've had too many days where I hestitate before going out for fear that these people will find me the enemy. I've had too many nights where I want crawl out of my skin and soak in industrial-grade cleaner.
It's not a pleasant feeling.
*   *   *
The other day, I looked at the people who surround me. I'm surrounded by a diverse group of passionate people who love what they do.
They draw their comics, they write their stories, they make their fan art, they rage about social justice – but all of this, they do out of love. They love, unironically, wholly and sincerely.
They're not without their flaws, but by and large, they're wonderful. I am incredibly lucky to know them all.
*   *   *
I am usually ambivalent about National Day. I don't like the chest-thumping declarations, the pats on the back, the rah-rah about the oversimplified story of growing from a fishing village to First World country. Suddenly we're so proud to be Singaporean when the rest of the year we complain?
I'm still ambivalent. I'm not nearly as patriotic as I should be, particularly as it's SG50 and all.
Don't get me wrong! I'm pleased. Happy, even. As a nation, we've overcome some pretty rough odds and done really well.
I suppose what I'm trying to say is: We've done well these 50 years. For the next 50, it's time for us to do better.
And we can, even though self-realisation can be a painful and upsetting process. We've got a long ways to go before we're a truly equal, regardless of our background. I'm waiting for the day where I can feel the same way I did on the day we closed the Youth Olympic Games.
There are days when I despair at the state of affairs. But then I look at the people around me. They who love fiercely; who are passionate; who are, in their own ways, trying to change things. And I think we can do it. It'll take us a while, but hey, we have another firty years before SG100, right?
Majulah, Singapura.
I'm looking forward to it.