Now updated for May 2019! I've just gotten back from another visit to Shanghai Disneyland, almost exactly a year after my first. I got a chance to ride, see and eat things that I missed before, and I'm so excited to share the expanded and updated guide!
---
Part 1 is about the larger Shanghai Disney Resort: one of the hotels and Disneytown. While you're here, don't forget to check out my previous posts on the perfect Disneyland bag. I first posted that in 2014 and I haven't had to update it since, so it's certainly served me well.
Also check out Part 2, my guide to Disneyland and Part 3 on the fun snacks in Disneyland!
The contents of Part 1:
Toy Story Hotel 玩具总动员酒店
It's a lovely hotel with all the hallmarks of the Disney standard, so you'll be in good hands. (For how much you're paying, you should!) The theming is adorable, and don't forget to stop and snap a picture with the giant Woody and Buzz statues around the hotel.
Bear in mind that the Shanghai Disney Resort is pretty out of the way. From Pudong Airport, we took a taxi to Toy Story Hotel. The ride was around 20 minutes and cost around 100 CNY (about S$20). Although the metro/subway is much cheaper, you'd need to make a big loop and then take another shuttle ride while hauling luggage. Since we were a small group, it was relatively inexpensive to splurge a little on a taxi for the convenience.
The nearest metro station is Disney 迪士尼, the last station on Line 11, and it's a 10-15 minute shuttle ride away. From there, it'll take around 30-40 minutes to reach the heart of Shanghai. Expect to shell out around 100-120 CNY for a 40-45 minute taxi ride from the popular Yuyuan (Yu Garden) tourist area, which is near the Bund.
You're really staying for hotel perks, which I cover a little more in the next section.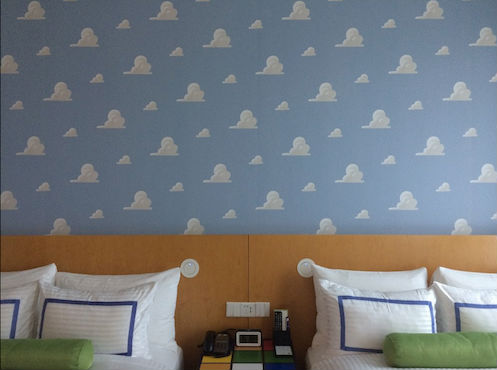 There is a buffet breakfast available at 138 CNY (S$29) for adults. It's quite expensive for the simple, mostly child-friendly offerings like dumplings, noodles and local favorites like the soya milk + youtiao combo. We tried it once when we had our very early start, but we ended up DIYing our breakfast for other days.
Complimentary Disney Premier Access for hotel guests
I talk more about Disney Premier Access 迪士尼尊享卡 in my guide to the Disneyland Park. DPA is the paid version of the FastPass. Sometime in the year between my visits, Shanghai Disney Resort added this as a perk for hotel guests who buy park tickets as part of their stay. You can purchase the tickets online as part of your hotel reservation, or at the concierge counter at the hotel.
Each guest gets one complimentary DPA pass per ticket day, so you'll get two complimentary DPA passes if you get a two-day ticket. Prices vary but I'd estimate this is worth around 80-120 CNY (S$16-25) of daily extra value, which isn't too shabby.
Regular DPA covers many rides, but the complimentary one was only available for these 6 rides, which excludes the super-popular Soaring:
Tron Lightcycle Power Run
Roaring Rapids
Seven Dwarves Mine Train
Peter Pan's Flight
Many Adventures of Winnie the Pooh
Buzz Lightyear Planet Rescue
You get to choose the time of your DPA entry within a one-hour block, so it's worthwhile to do a little park planning beforehand so you can pick a time that works best for you.
Early entry for hotel guests
The other main perk is early entry for hotel guests via the hotel's free shuttles. Given how busy Shanghai Disneyland can get, this is probably what really makes the Shanghai Disney hotels worth it.
The hotel has several free shuttles, but the main ones you'll take are the shuttles that go to the Disney metro station (Disney 迪士尼, the last station on Line 11), and the one that goes to Disneytown — that's the one you'll take to Disneyland.
The main perk of staying in a Disneyland hotel is the early entry. I've stayed in Disney hotels across all six parks and while it's always appreciated, it's never felt entirely necessary.
So believe me when I say that Shanghai is the first park where you really need the early entry.
When you take the Disneytown shuttle from the hotel, you will end up at one of two stops. From 7.15am to around 10am (times may vary), it stops at a side entrance to Disneytown.
More importantly, Disneytown has a semi-secret side entrance to the Disneyland park and the early shuttle takes full advantage of this. You skip the lines to enter Disneyland and when you walk into the park, you'll be much deeper inside – and consequently, closer to the major rides. Unless you buy the paid FastPass option, this may be your only way to experience the super popular rides like Soaring Over The Horizon. You can choose to run across the park to hit Soaring first thing in the morning, or you can reserve your FastPass in the app.
After 10am, the shuttle stops at the transport hub, and from there, it's 5mins walk to Disneytown and then another 5-10mins to the park entrance.
Disneytown 迪士尼小镇
Disneytown is Shanghai's answer to the Downtown Disney shopping area, filled with a mix of eateries and shopping.
There's a range of price points and a good mix of western and Chinese joints. This being a tourist resort, it's a little pricey – expect to spend at least 50 CNY (S$10) per person. The most economical option is probably the Food Republic food court, which includes a stall called Yershari — which is the only halal eatery throughout Shanghai Disney Resort. (Halal in Chinese is 清真.) Check out the menu below.
We had dinner at a mid-range restaurant called The Dining Room 南小馆 which is casual local food, and not too expensive, around 100 CNY (S$20) a person. Their set meals are extremely filling and can easily feed two if you're not big eaters, so don't order too much!
Disneytown also has a large Starbucks and BreadTalk bakery. BreadTalk buns start from around 10 CNY (S$2) and keep well for breakfast the next day. (Yep, there are a lot of Singapore brands in Shanghai.)
World of Disney 迪士尼世界商店
The main attraction here is the World of Disney store. To be honest, the shopping here is better than inside the Park, so it's worth stopping by to check it out before you go into Disneyland.
They have a pretty good selection of tasteful Disney phone cases readily available, but I spotted a Duffy design that I adored. Unfortunately, it wasn't available for my particular phone.
Imagine my delight when I realised they can custom-print one for you! You can even customise it with your name using one of their iPads – and don't worry, the interface comes in English, too.
Prices are 139 CNY for regular designs or 169 CNY for those that glow-in-the-dark (S$28-S$34), which is really quite reasonable. It's even ready in less than an hour!
How's the English standard?
The level of English communication has improved exponentially in the year since my first visit, particularly at the hotels. Cast members (staff) in the park are still learning English, but almost all could speak at least some transactional phrases related to their roles. Some of the younger cast members are very fluent, so if all else fails, I expect they'll be able to get another colleague to help.
That being said, I do think that you need someone in your party who can communicate in Chinese to fully appreciate the park. It's just much easier, and all the in-ride dialogue is in Chinese (although safety and signage information is bilingual). I was able to get by with a little pidgin Chinese. I fully expect the English levels to improve across the board in another year or two.
Now that we're done with Disneytown, check out Part 2, my guide to Disneyland and Part 3 on the fun snacks inside the park!