Now updated for May 2019! I've just gotten back from another visit to Shanghai Disneyland, almost exactly a year after my first. I got a chance to ride, see and eat things that I missed before, and I'm so excited to share the expanded and updated guide!
---
Check out Part 1 on Disneytown and Toy Story Hotel, and Part 2 for my area-by-area guide to Disneyland!
Shanghai Disneyland has some nifty snacks, though they're very much on the bread-y side so they may not be great if you're on a diet. But let's be real, part of theme park experience is eating all sorts of unhealthy things!
They're all worth indulging in… or are they? Find out here:
Mickey donut
This Mickey donut was big enough to be my entire breakfast. You can't quite see the scale of it, but it was as big as my face and really filling. It may be called a donut but really, it's cake generously coated with white chocolate and sprinkles. It's good white chocolate too, not that oily fake stuff. It's 55 CNY (S$12) from Snackin' Kraken in Treasure Cove. Snackin' Kraken is an outdoor stand, opposite the Doubloon Market store.
There's also a cinnamon sugar version from Remy's Patisserie along Mickey Avenue. It's also quite cakey, but less sweet despite the cinnamon sugar.
Corndogs
Some of my favorite snacks in Shanghai were savory. Like the Adventure Isle floss corn dog (40 CNY, S$8) from the outdoor cart outside Soaring Over the Horizon in Adventure Isle! It was so good and made all the better by having to huddle under an umbrella to keep it out of the rain.
It actually tastes better than it looks cos the yummy pork floss was squished by the wrapper. Watch out for your clothes! It's a bit messy, but luckily I was wearing a raincoat. This was probably my favoritest thing because the floss was a nice contrast to the meaty bite of the pork sausage, and it was lovely and warm.
Pork floss is well-known in Singapore, but I'm not sure about elsewhere? It's what you get when you cook out all the moisture from pork. You're left with a very umami meat fluff that's almost a savoury cotton candy. It just melts in your mouth. It's especially good on porridge!
There's a more traditional breaded corndog available between Tomorrowland and Gardens of Imagination. The Stitch Corn Dog is also 40 CNY (S$8) with a chicken and herb sausage. The Stitch is printed on edible paper, but it tends to stick to the wrapper so your Stitch may get torn ):
Look for the kiosk with Stitch and the words 玉米热狗 (Corn Dog). You can also get the Adventure Isle floss corn dog here!
Mickey pretzel
If corndogs aren't your thing, stop by Fantasyland to grab yourself a soft Mickey pretzel. It's served warm with a packet of mustard, and it's so tasty. This has become my absolute must-have snack when I visit.
The pretzel is soft and warm with just the right amount of salt on the outside, complimented by the very yummy mustard. It's is 30 CNY (S$6) and you can find it at a food cart in between Fantasyland and Treasure Cove.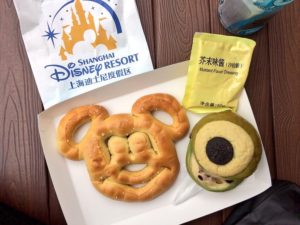 Location-wise, this is a bit tricky to pin down since it's not marked on the online map. But let's try. From Gardens of Imagination, stick to the main road that leads to the junction of Fantasyland and Treasure Cove. (This is more or less the end of the parade route – if you pass the Fantasyland info kiosk, you've gone too far.) At the junction, head left into Fantasyland and it's the nondescript and unassuming food cart!
If you don't want to hunt down a random food cart, each sit-down eatery usually has a dessert item unique to that area. Mickey & Pals Market Cafe is right next to Whistle Stop Shop, the store that specialises in Duffy the Disney bear goods, so of course they'd have a Duffy-shaped panna cotta! It was a milky pudding with a light, spongy cake base. It's a sweet treat to end a lunch, and won't break the bank at 30 CNY (S$6).
Minnie cranberry muffin
If you prefer cakes, there are two major shops in Mickey Ave to check out. Remy's Patisserie is the main bakery. You'll find various types of muffins, sandwiches and themed buns. The muffins are pretty good, if pricey – expect to pay around 30 CNY and up.
The Minnie Mouse cranberry muffin (35 CNY, S$7) was pretty tasty and not too sweet, if expensive. The plain buns aren't great; while cute, I found them too hard and dry, but they will keep well if you're running around the park.
Character cake pops
Sweetheart Confectionery has a stronger focus on sweets like cake pops, giant candied apples, and rice krispie treats. The candied apples are enormous and you're really getting your money's worth (50 CNY, S$10 – so that's quite a lot of apple).
I got this very cute matcha cake pop from there! It was very dense and moist like a no-bake cake and reminded me of a sticky pudding. Cake pops may not be your thing, but if it is, you'll be paying around 20 CNY (S$4) for this deliciousness.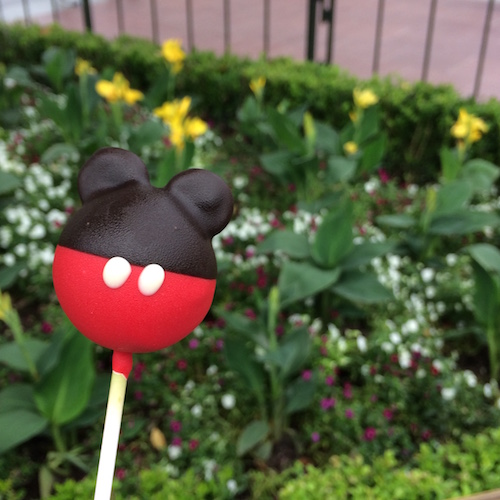 Popcorn buckets
Speaking of character-themed items, I was curious to see if Shanghai had inherited Tokyo's interesting popcorn flavors and adorable popcorn buckets. On my first trip, they only had caramel popcorn with one bucket, but I'm pleased to see that it's changing!
They've introduced seasonal popcorn buckets with limited designs, and some carts have both caramel and cherry popcorn. The cherry is actually grenadine and it was really generous, so you get lots of flavour with each bite. A regular cup of popcorn will cost 35 CNY (S$7) and a filled popcorn bucket is 100 CNY (S$20).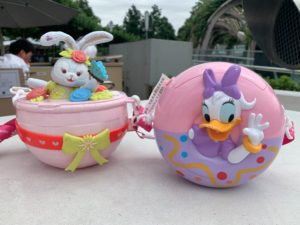 The classic Mickey ice cream
Make sure to save space for the classic Disney snacks, and you can't get much more classic than the Mickey ice cream (40 CNY, S$8). You can get some great shots if you happen to go to the ice cream cart near the Castle! Because China has a strong dairy culture, the ice cream is rich and creamy.
Turkey leg
Speaking of classic Disney snacks, Shanghai has the turkey leg too. A little further down from Snackin' Kraken (where you get the Mickey donut) is another food stand, Tortuga Treats in Treasure . Most likely, you'll see the very long queue first. I thought it was for a ride, but turns out that this is the only place that sells the iconic Disneyland giant turkey legs. They only open as batches of turkey legs are ready, so take note of the next timing if you want to get your hands on one!
Each turkey leg is 80 CNY (S$17) and it's limited to 2 per purchase.
It was surprisingly good! This may be slightly blasphemous, but I didn't like the American version — it was wayyy too much meat without enough sauce. This is a much better balance. It's still enormous and pretty much a whole meal, but the meat is tender and well-seasoned with the delicious Disney BBQ sauce.
You can also find a smaller turkey wing at the snack cart in Toy Story Land, in front of Al's Toy Barn. It's also 80 CNY but it's a much more manageable size if you're not a big eater. You can also get a corn cob.
Bacon and cheese corn cob
At 35 CNY (S$7), I'd give the corn cob with cheese and bacon a miss. While the corn was done well, gently steamed and flavoured with butter, the cheese and bacon were unappetising. The main corn cob kiosk is actually in Fantasyland, but the queue is quite long. The kiosk at Toy Story Land is much less busy, if you're willing to make your way deeper into the park.
Snack throughout or sit down for a meal?
All things considered, I'd say Shanghai has pretty decent snack game that's definitely improving, though not quite on Tokyo's level yet. The snacks are kinda expensive when you compare them to the 'real food' meals, which are generally 70-90 CNY (S$15-19). They're pretty big though, so you could share or have a large snack instead of lunch.
But if you can't quite decide, also check out my dining tips on what you can expect for most of the sit-down eateries within Shanghai Disneyland park.
Anywhoo, that's it from me! I hope the guide has been useful and if nothing else, it's a decent addition to the few English guides out there. Just bear in mind that Shanghai is already fantastic, just a little rough around the edges. Give it a little time, though, and I'm sure it'll rise to the occasion like one of their delicious pretzels.